Explore the Future of Furniture Shopping through BiSemA's SaaS Application—benefit from advanced features and service specifications, saving you time and money.
Tap into the capabilities of cloud-based furniture data for an unmatched shopping experience.
BiSemA's e-commerce platform takes the entire furniture catalogue, including product choices and finishes, and brings it online for the public to access.
The furniture catalogue XML file powers the e-commerce site. Unlike traditional e-commerce websites for furniture, there are no pre-defined furniture products.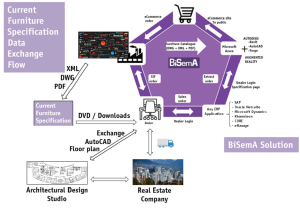 Delivering furniture catalogues with
cloud computing
What Microsoft Dynamics 365 Business Central can do
BiSemA' s Cloud Specification Services
BiSemA Corporation is pleased to introduce a cloud-based specification service for office furniture dealers. BiSemA offers a cloud-based office furniture specification service that has developed a contract specification platform for remote and collaborative work environments. This platform enables multiple users to collaborate on a project and complete it quickly, all within a single sales order.
Through BiSemA's services, furniture dealers, architects, space planners, and property managers can collaborate efficiently to design space layouts and showcase the furniture catalogue, saving time and manpower while benefiting from affordable subscription fees.
BiSemA delivers office furniture catalogue data via Microsoft Azure, seamlessly integrating with the ERP application and a user's AutoCAD and Revit applications. This integration offers a flexible, cost-effective, collaborative, and user-friendly cloud-based space layout specification service.
This integration lets users visualize their office layout specifications using Augmented Reality and Autodesk Forge. Additionally, it provides dealers with marketing tools at no extra subscription cost.
Frequently Asked Questions