BiSemA SaaS application delivers furniture products online for better features and services to save time and money for users.
The BiSemA e-commerce platform brings the whole furniture catalogue products online, including product options and finishes, to the public.
The furniture catalogue XML file drives the e-commerce site.
There are no more predefined furniture products like the current e-commerce sites that sell furniture online.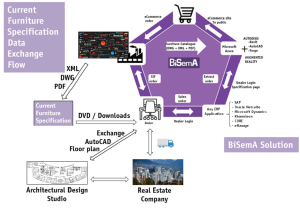 Delivering furniture catalogues with
cloud computing
What Microsoft Dynamics 365 Business Central can do
BiSemA' s Cloud Specification Services
BiSemA Corporation is proud to introduce a cloud-based specification service to office furniture dealers.
BiSemA is a cloud-based office furniture specification service that created a contract specification platform for a remote and collaborative work environment that allows many users to work on one project to finish with a short period for one sales order.
Using BiSemA services, furniture dealers, architects, space planners, and property managers dealers can work in collaborative teamwork environments to design space layout and present the furniture catalogue in saving time and workforce with low subscription fees.
BiSemA delivers office furniture catalogue data with Microsoft Azure integrating with Microsoft Dynamics 365 Business Central ERP application to a user's AutoCAD and Revit application to provide flexible, cost-effective, collaborative, and easy-to-use space layout specification services on the cloud.
This integration helps the user see its specification office layout workstations using Augmented Reality and Autodesk Forge. It allows for dealers for marketing tools with no additional subscription fees.
Frequently Asked Questions